Quality standards for inspections are offered as per client's request. And we do perform quality standards for inspections professionally.
Sampling Method is one of quality standards for inspections.
Sampling method represents on which sampling level the inspection carries out and on which mathematical theories it is based. AiT uses the quality standard of ANSI/ASQ Z1.4(as called MIL-STD-105E previously) as sampling method, which is recognized international quality standards for inspections and the most widely accepted sampling method by every industrial company. This standard now has equivalents in all nationals and international organizations of quality standards for inspections such as BS 6001, ABC 105, ANSI/ASQ Z1.4, NFX 06-022, ISO 2859, DIN 40.080.
They are based on mathematical theories of probability and offer the advantage of clearly defining the number of samples to be drawn for inspection from a given lot or consignment. They also suggest the maximum number of defective items allowed in the sample size.
Unless otherwise instructed, AiT uses the Single Sampling Plan Normal Level II (according to the ANSI/ASQ Z1.4 standard). This is generally the common requirement for products manufactured in China.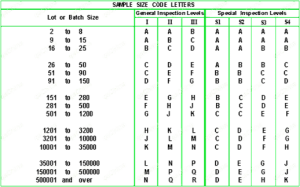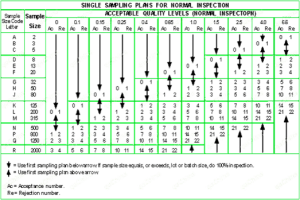 You can use the AQL Table to calculate the number of sample drawn depending on the lot or consignment quantity.
You can also specify a very simple sampling method by percentage of the consignment quantity or the given lot, for example 5%, 10%, even more…(in this case, you need also specify acceptable quality level such as 3% for Major defectives, 5% for Minor defectives…)
AQL(Acceptable Quality Levels)
AQL is one of most popular quality standards for inspections. AsANSI/ASQ Z1.4 is based on random sampling, therefore a few defectives are considered acceptable. The AQL is the maximum defective rate that, for purposes of sampling inspection, can be considered satisfactory as a process average. Different AQLs may be designated for different defects such as critical, major and minor defects. The AQLs should be agreed upon between buyer and supplier before the start of production.
The following AQLs are usually applied by AiT unless otherwise instructed by the client :
| | | |
| --- | --- | --- |
| | High valued or premium products | Low or medium valued products |
| Critical defectives | No critical defect is accepted | No critical defect is accepted |
| Major defectives | AQL 1.5 | AQL 2.5 |
| Minor defectives | AQL 2.5 | AQL 4.0 |
Acceptable quality level (AQL) sample quality standards for inspections have been proven to be accurate over a long run. However, the quality level of merchandise at destination is sometimes lower than the per-shipment inspection results. This may be due to transport, handling, change in environment and/or reliability problems. Buyers are therefore advised to take this into consideration when deciding the AQL levels.
Defect Classification
The client defines the AQL and the maximum number of defective goods allowed in the sample size.
Defects detected during visual inspection are usually classified within 3 categories: "Critical", "Major" and "Minor"
Critical: likely to result in unsafe condition or contravene mandatory regulation or reject by import customs.
Major: reduces the usability/function and/or sale of the product or is an obvious appearance defect
Minor: doesn't reduce the usability/function of the product, but is a defect beyond the defined quality standard more or less reduces the sale of the products.
An Individual with defect(s) is called defective sample. In the inspection process, one defective sample is counted one for the most serious defect only no matter how many defects found in the said sample.
Clients can specify what points are minor, major or critical in a defect classification checking-list together with the inspection criteria and product specification.
ASTM D5430 4-point System(Quality standards for inspections of fabrics)

This system is mostly used in textile industry around the globe now. This test method describes a procedure to establish a numerical designation for grading of fabrics from a visual inspection. It may be used for the delivery and acceptance of fabrics with requirements mutually agreed upon by the purchaser and the supplier. This system does not establish a quality level for a given product, but rather provides a means of defining defects according to their severity by assigning demerit point values. All type of fabrics whether grey or finished, can be graded by this system.
Defect Demerit Point

Length of defect

Demerit Points

3 inches or less

1

Over 3 inches but not over 6 inches

2

Over 6 inches but not over 9 inches

3

Over 9 inches

4
N.B.:
1. No running yard shall be penalized more than 4 points for warp and weft defects.
2. For Fabric width exceeding 64″-66″, Maximum penalty points can be increased above 4 per linear yard in proportion to the width.
3. Defects appearing within one inch of either edge shall be disregarded.
4. Any hole other than a pin hole shall be considered a major defect and assigned 4 points for penalty.
Grading:
1. Linear Yard basis:
Acceptable tolerance=20 points per 100 linear yard
2. Square yard basis:
Points/100 sq. yd= (Total Points scored in the bulk X 100 X 36/(Width of the roll(inch) X total yds inspected)
Acceptable tolerance=
a. 28 points per 100 sq. yd. for each individual roll.
b. 20 points per 100 sq.yd. for average of rolls inspected.
1st Quality: Penalty points not exceed the acceptable tolerance.
2nd Quality: Penalty points exceed the acceptable tolerance.
Above are quality standards for inspections, below are standards for audits.
SA 8000
SA 8000, which is the first standard governing employees' working condition under Social Accountability International (SAI), provides a framework for independent assessment by a third party certification body, as in the cases of ISO 9000 quality management system and ISO 14000 environmental management system.
It is thus our great concern to refer to SA 8000 set of social accountability standards and guidance document to achieve your Factory Assessment requirements.
The Social Accountability Standards deal with the following criteria:
Child labour: the company shall not support the use of child labour of which Chinese law define as the work of "any person less than 16 years of age ".
Forced Labour: the company shall not support the use of "Forced or Bonded Labour"
Health and Safety: the company shall provide to its employees a safe and healthy working environment. People should not have to work in an environment which is potentially harmful to their health.
Freedom of Association and Right to collective Bargaining: "the company shall respect the right of all personnel to form and join trade unions of their choice and to bargain collectively" (SAI)
Discrimination: "the company shall not engage in or support discrimination in hiring, compensation, access to training, promotion, termination or retirement based on race, caste, national origin, religion, disability, gender, sexual orientation, union membership, or political affiliation" (SAI)
Disciplinary practices: "the company shall not engage in or support the use of corporal punishment, mental or physical coercion, and verbal abuse" (SAI)
Working hours: "the company shall comply with applicable laws and industry standards on working hours" (SAI)
Compensation: "the company shall ensure that wages paid for a standard working week shall meet at least legal or industry minimum standards" (SAI)
Management systems: "top management shall define the company's policy for social accountability and labour conditions to ensure that it includes a commitment to conform to all requirements of this standard and national and other applicable law" (SAI).
ISO 9000
ISO (the International Organization for Standardization) is a worldwide federation of national standards bodies (ISO member bodies). International organizations, governmental and non-governmental, in liaison with ISO, also take part in the work. ISO collaborates closely with the International Electrotechnical Commission (IEC) on all matters of electro technical standardization. ISO9001 has the following frame:
1. Scope
1.1 General
This International Standard specifies requirements for a quality management system where an organization
a) needs to demonstrate its ability to consistently provide product that meets customer and applicable regulatory requirements, and
b) aims to enhance customer satisfaction through the effective application of the system, including processes for continual improvement of the system and the assurance of conformity to customer and applicable regulatory requirements.
1.2 Application
All requirements of this International Standard are generic and are intended to be applicable to all organizations, regardless of type, size and product provided.
2. Normative reference
The following normative document contains provisions, which, through reference in this text, constitute provisions of this Technical Specification.
3. Terms and definitions
For the purposes of this International Standard, the terms and definitions given in ISO 9000 apply.
4. Quality management system
The organization shall establish, document, implement and maintain a quality management system and continually improve its effectiveness in accordance with the requirements of this International Standard.
4.1 General requirements
4.2 Documentation requirements
The organization shall establish and maintain a quality manual
5. Management responsibility
Top management shall provide evidence of its commitment to the development and implementation of the quality management system and continually improving its effectiveness by
5.1 Management commitment
5.2 Customer focus
5.3 Quality policy
5.4 Planning
Top management shall ensure that quality objectives, including those needed to meet requirements for product [see 7.1 a]], are established at relevant functions and levels within the organization. The quality objectives shall be measurable and consistent with the quality policy.
5.5 Responsibility, authority and communication
Top management shall ensure that responsibilities and authorities working and communicating within the organization.
5.6 Management review
Top management shall review the organization's quality management system, at planned intervals, to ensure its continuing suitability, adequacy and effectiveness. This review shall include assessing opportunities for improvement and the need for changes to the quality management system, including the quality policy and quality objectives.
6. Resource management
The organization shall determine and provide the resources needed
a) to implement and maintain the quality management system and continually improve its effectiveness, and
b) to enhance customer satisfaction by meeting customer requirements.
6.1 Provision of resources
6.2 Human resources
6.3 Infrastructure
6.4 Work environment
7. Product realization
The organization shall plan and develop the processes needed for product realization. Planning of product realization shall be consistent with the requirements of the other processes of the quality management system (see 4.1).
7.1 Planning of product realization
7.2 Customer-related processes
7.3 Design and development
7.4 Purchasing
7.5 Production and service provision
7.6 Control of monitoring and measuring devices
8. Measurement, analysis and improvement
The organization shall plan and implement the monitoring, measurement, analysis and improvement processes needed
a) to demonstrate conformity of the product,
b) to ensure conformity of the quality management system, and
c) to continually improve the effectiveness of the quality management system.
This shall include determination of applicable methods, including statistical techniques, and the extent of their use..
8.1 General
8.2 Monitoring and measurement
8.3 Control of nonconforming product
8.4 Analysis of data
8.5 Improvement
ISO 14000
The International Organization for Standardization (ISO), based in Geneva, is one of the key international voluntary standards bodies. Standards developed by ISO are available to the 140 or so member countries to adopt as they see fit.
ISO has a rigorous process for standards development. Once a technical committee is established, it may establish subcommittees and working groups to carry out the work.
There are currently around 2,850 active technical committees, sub-committees and working groups, made up of qualified representatives from around the world. To date, they have published more than 12,000 ISO standards.
ISO has a general rule that reviewing all standards at least every five years.
The ISO 14000 family
The ISO 14000 family of environmental management and auditing standards is not concerned with environmental performance. This distinction is fundamental. Rather than dealing with measures of performance such as energy efficiency and emissions, a management standard establishes what the organization needs to do in order to meet its goals.
The ISO 14000 family contains more than 20 standards, guides, and other publications, dealing with a variety of topics such as forest management and life-cycle assessment. The following is a sample of the ISO 14000 series.
ISO 14001
Environmental Management Systems – Specification With Guidance for Use
ISO 14004
Environmental Management Systems – General Guidelines on Principles, Systems and Supporting Techniques
ISO 14010
Guidelines for Environmental Auditing – General Principles of Environmental Auditing
ISO 14011
Guidelines for Environmental Auditing – Audit procedures Part 1: Auditing of Environmental Management System
ISO 14012
Guidelines for Environmental Auditing – Qualification Criteria for Environmental Auditors
The ISO 14001 standard
It is a fundamental principle of ISO 14001, which governs environmental management systems, that organizations set their own goals, based on whatever considerations they wish to include, such as the demands of customers, regulators, communities, lenders or environmental groups. The ISO 14001 standard provides a framework within? which to develop plans to meet those targets, and to produce information about whether or not the targets are matching.
By the end of 2001, nearly 32,000 organizations worldwide had received ISO 14001 accreditation.
An important benefit of adopting ISO 14001 is to give stakeholders the reassurance they need that the organization's environmental claims are valid.
The ISO 14001 standard is intended to be flexible, and to be of value in a wide variety of situations. However, it is applicable most readily to large companies that already have a formal management system in place, and which have the expertise and resources to incorporate environmental issues into that system.
However, the principles have been also for smaller businesses, and to non-business organizations.
In general, conformance with one of the international standards can lead to the implementation of other standards. For example, once an organization has implemented ISO 14001, it is easier for it to satisfy the requirements of EMAS (the European Eco-Management and Audit Scheme).
OHSAS 18000
Leading organizations are formalizing their Occupational Health and Safety (OH&S) programs into management systems (MSs). OHSAS 18001 is a voluntary document that establishes the requirements for an effective OH&S MS. This document was developed to help companies control OH&S risks and improve overall performance. An OHSAS 18001 management system is a statement to your employees, customers, suppliers, stakeholders and community that your company has done everything in its power to reduce health and safety risks. OHSAS 18001 is  to be compatible with other management systems standards and specifications such as ISO 9001 (Quality), and ISO 14001 (Environment). Therefore choosing an integrated management system provides excellent value.
Benefits of compliance with OHSAS 18001:
Eliminate or minimize risk to employees and other interested parties who may be exposed to OH&S risks.
Reduce downtime and associated costs.
Demonstrate an innovative and forward thinking approach.
Increase access to new customers and business partners.
Manage health and safety risks effectively, now and in the future.
C-TPAT
C-TPAT means the Customs-Trade Partnership Against Terrorism.
US customs and EU expect importers to control their vendor manuals, purchase orders, buying agency agreements, manufacturing agreements, factory evaluations and inspection reports to reflect security concerns.
It is thus our great concern to your vendors manufacture and their security procedure to achieve your requirement.
The manufacture should deal with the following plans:
Physical Security: Construct all buildings of materials which resist unlawful entry and protect against outside intrusion.
Access Controls: Prohibit unauthorized access to the shipping, loading dock and cargo areas.
Procedural Security: Measures for the handling of incoming and outgoing goods should include the protection against the introduction, exchange, or loss of any legal or illegal material.
Personnel Security: Companies should conduct employment screening and interviewing of prospective employees to include periodic background checks and application verifications.
Education and Training Awareness: A security awareness program should be provided to employees including recognizing internal conspiracies, maintaining product integrity, and determining and addressing unauthorized access. These programs should encourage active employee participation in security controls.
Industry Benchmarks
Benchmarking is a continuous process that provides organizations with the opportunity to compare their internal and external best practices to those of other organizations. The resulting differences become targets for process improvement to bridge performance gaps.
Consulting firms and industry associations publish most industry benchmarks and best practices, and are not available for free. We have wide industry benchmarks resources such as textile goods, garments, ceramics, glassware, toys, lightings, stone products etc. With these Industry benchmarks AiT's experts and staff guarantee satisfaction to their clients.
For more information of quality standards for inspections, please contact us!