What is an Initial Production Check (IPC)?
Initial Production Check (IPC) also called Pre-Production Inspection (PPI). IPC is offered in combination with other inspections such as During Production Inspection, Final Random Inspection and other on-line production checks. IPC is an inspection of all the machinery, raw materials, materials and components to be used for the smooth execution of your order. An Initial production check is the first step in ensuring the quality of your product will be consistent throughout production.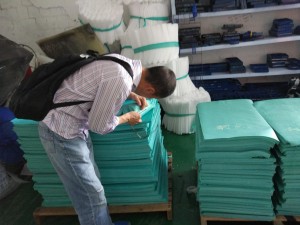 AiT checks if your factory completely understands your requirement and the specification of your order and is capable to meet your requirement as regards quality, production capacity and lead time.
This inspection is completed just before starting of mass production, prevents any potential production flaws and ensures that the materials used are contractual and meet the standards of the countries of destination of the goods.
Lab testing can be included in the initial production check for quality assurance on materials.
The main advantages for the Initial Production Check (IPC) are as follows:
– Avoiding misinterpretations and misunderstandings
– Ascertaining your requirements
– Preventing usage of wrong material, wrong components, wrong colors, etc
– Allowing implementing corrective actions before mass production is launched
– Avoiding unexpected costs and unnecessary delays
– Keep pressure on your vendor shoulders.
Anyway, with our certified inspector expert in the field makes sure the manufacturing process is right and helps in taking corrective actions before mass production starts, avoiding unnecessary and costly product re-work in the making of production and lengthening delivery delay.
For more information, please contact us!